NEW XPON OLT FROM RAISECOM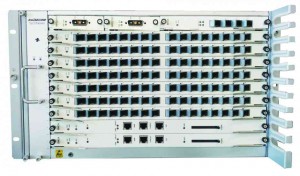 ISCOM6860 possesses great switching capacities and can be used to aggregate and transport data, voice and video traffic from other OLTs over Ethernet backbones. Enhanced network manageability, reliability and redundancy are supported with Ethernet OAM, ring protection mechanisms, and a hot-swappable redundant power supply.
ISCOM6860 also supports multi-purpose access and aggregation PON and xDSL DSLAM Ethernet traffic at the same time. The ISCOM6860 targets the FTTx, HFC bidirectional transformation, mobile backhaul, IP leased line interconnection, and etc. scenarios.
• Available with mixed pluggable up to 112 x GE or 4 x 10GE interfaces for uplink, and up to 112 x GPON or  112 x EPON interfaces for downlink
• 2 x SMC control module supporting real-time redundancy
• Up to 1:64/1:128 split ratio, and 14,336 ONUs per full-load 10U OLT chassis
• Upstream wavelength of 1310nm and downstream wavelength of 1490nm
• IEEE 802.3ah (EPON), ITU-T G.984 (GPON), IEEE 802.3av (10G EPON)
• Symmetrical 10G/10G or asymmetrical 10G/1G
• Storm control of broadcast, multicast and DLF
• Trunk group and Link Aggregation Control Protocol (LACP)
• 1+1 automatic protection and link diagnostic for each PON port
• VLAN, QinQ, QoS, DBA and a reliable SLA
• IGMP, Multicast VLAN Registration (MVR), DHCP and Option 82
• AES-128 encryption and triple churning
• Hot-swappable redundant power supply
• CLI, Telnet, SSHv2 and SNMP (NView compatible)
System and sub-cards:
• ISCOM6860-10, 6U/10-slot chassis with an airflow slot and only a cable array
• ISCOM6800-SMCA, system management and control card with a switching capacity of 1.28Tbps
• ISCOM6800-EP16, EPON service card with 16x EPON SFP interfaces
• ISCOM6800-XEP8, 10G EPON access card, providing 8 10G EPON XFP interfaces, applicable to general service slots
• ISCOM6800-GP8A, GPON service card with 8 x GPON SFP interfaces
• ISCOM6800-GP16, GPON service card with 16 x GPON SFP interfaces
• ISCOM6800-XP4A, 10GE service card (semi-card) with 4 x 10GE XFP plus and interfaces
• ISCOM6800-GE16, GE service card with 16 x GE SFP interfaces