OVERVIEW
The Casa Systems C1G Cable Modem Termination System (CMTS) is a new class of cable edge device that implements all of the DOCSIS 3.0 features enabling network operators to cost effectively offer highly scalable broadband services such as IPTV, video-over-IP, interactive gaming, as well as traditional broadband access and VoIP services.
Due to its extremely compact size (15 in x 8.75 in x 1RU), the C1G can be easily deployed by network operators in remote locations such as Multi-dwelling Units (MDU), hotels and motels (hospitality), and rural locations.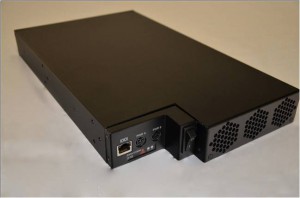 The C1G supports 1 downstream QAM port, 2 DOCSIS upstream ports, and 2 GbE (SFP) network ports. Configurations for the C1G range from 2DS x 2US up to 8DS x 8US. Additional features supported are; upstream and downstream channel bonding; AES encryption/decryption; Quality of Service (QoS); and a rich IP feature set.
The C1G's revolutionary compact size and cost per-bit of DOCSIS bandwidth provides an unprecedented opportunity for network operators to cost-effectively provision highly scalable broadband services to locations that were thought to be cost ineffective.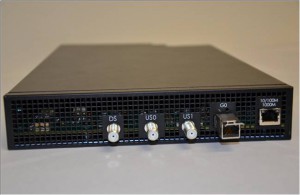 Features
The C1G CMTS comes in a compact 38.1cm x 22.2cm x 1RU (15 in x 8.75 in x 1RU) chassis that provides operators the maximum flexibility in deploying cost-effective solutions. The C1G is a complete CMTS solution with 1 downstream QAM port, 2 DOCSIS upstream ports, and 2 GbE (SFP) network ports.
The C1G can scale from a 2DS x 2US to an 8DS x 8US configuration as your subscriber base grows. Channels can be added remotely by simply activating license keys.
In the downstream direction for Annex A, the C1G provides from 100 Mbps to 400 Mbps of bandwidth. When using Annex B, the C1G delivers from 80 Mbps to 320 Mbps of bandwidth in the downstream direction. On the upstream link, The C1G supports up to 2 logical channels per physical channel.