Casa's C100G next generation, highly available, fully redundant, I-CCAP platform enables MSOs to deploy MPEG video, IPTV, and DOCSIS over a single port.  The C100G delivers the industry's highest CCAP density while consuming the lowest average power per channel, minimizing both expenses and space requirements in the cable head end.
C100G platform consists of the following new modules: downstream module (DS8X96); switching module (SMM8X10G); and the existing upstream module (US16X4).  With the introduction of this platform, Casa continues to lead the way by providing solutions with the greatest capacity in the industry.  The platform currently supports over 8,000 downstream channels. This platform solution, combined with Casa's time-tested and unique Software Defined Cable Architecture (SDCA) allows the company to quickly adapt to new features and functionality.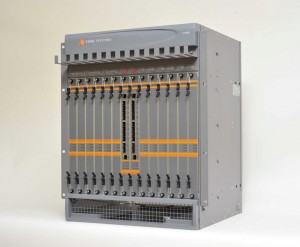 Separate Downstream and Upstream Channels
The C100G has separate modules for downstream and upstream traffic in one physical chassis. Now multiple system operators (MSOs) can provision downstream and upstream channels independently, managing the different traffic patterns of business users versus residential subscribers. Our product's flexible architecture enables MSOs to easily allocate more downstream traffic for IPTV and video-over-IP.
Highest Channel Density
 The C100 Gcan support over 8000 downstream or over 1500 upstream QAM channels in a single chassis. This significant increase in downstream channel density makes providing video-over-IP service economically viable today.
Industry-Leading DOCSIS 3.0 Features The C100G has the most extensive DOCSIS 3.0 feature set of any 13 RU chassis on the market. It provides the highest channel bonding capability for downstream traffic and upstream traffic.
The C100G revolutionary DOCSIS bandwidth capacity and low cost-per-bit enables MSOs to cost-effectively provision IPTV or video-over-IP and interactive gaming along with traditional broadband access, VoIP and interactive services with one platform.